Advanced Understanding and Applications of PVSyst
PVSyst is a downloadable software and tool that is used to estimate and optimize the energy output of a solar PV plant.
PVSyst is considered to be the industrial standard as a solar design tool. As a software, PVSyst allows the user to simulate the energy output, losses, analyse shadings, carry out financial estimations, probability reports, and use many more features. Users of PVSyst can simulate the potential energy performance of a power plant, after having specified information such as location, meteo data, components to be used, arrangement, budgets and so on.
The main results to be derived from PVSyst reports are the total energy production, performance ratio, specific energy and gains/losses involved in the simulation. The final report produced from a PVSyst simulation plays a key role in the proposal to be submitted to potential clients.
PVSyst as a software is extremely feature-loaded and broad. For the same reason, Reojob has created two separate curriculums – Introduction to PVSyst and Advanced Applications and Understanding of PVSyst.
Simulation of trackers, bifacial modules
CAPEX and OPEX financial analysis
P50/P90 reports
Simulation with grid constraints and more
Independently perform PVSyst simulations of multi-megawatt projects
Certificate of Completion after successfully clearing the course.
8 hours+ of online video content
Downloadable PDF files and exercise excel sheets
Access to the instructor over WhatsApp and Mail for all your doubts and queries
Course contents accessible for 45 days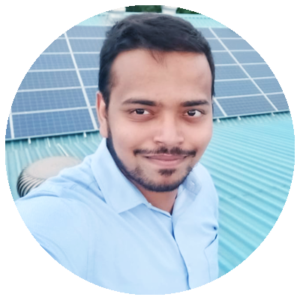 Mr. Shalve Mohile, your instructor for this course, is a freelance solar PV design engineer with an experience of over 6 years in designing and building solar projects, with various system configurations including on-grid, off-grid and micro-grid systems.
With expertise over PVSyst, Helioscope, Aurora and AutoCAD, Mr. Shalve has previously worked as a design engineer with companies like Tata Power and the Ravin Group. As a freelance design engineer and consultant, he works with clients across India, Australia, US and Germany and is also an experienced trainer in the field.
Course Syllabus
1
Introduction to Off-Grid and Storage Systems
Understanding the difference between Off-grid and Grid-Connected systems
Understanding load, load profile, and variations during the day
Variation of solar generation during the day
Overlapping solar generation v/s load
Understanding the basics of batteries
Understanding of Nominal, System and Battery Voltage
2
Designing a battery-based system using PVSyst/Helioscope reports
Interval Data v/s Solar Generation Analysis
Estimating the battery capacity
Battery Bank design
Battery Bank BOS considerations, SPDS and Isolators
3
Comparison of various battery technologies
Design comparison of Lead Acid and Lithium-Ion
Application of Battery based system other than Off-grid systems
Self-Consumption
Peak Shaving
Weak Grid Stabilizing
Candidates looking to book multiple seats can get in touch with the Support Team for the best deals and prices available.
Be the first to add a review.
Please,
login
to leave a review