Advanced Understanding and Applications of PVSyst

Why become a Solar Designer?
The role of a Solar PV Design Engineer is to design a solar PV system that is efficient, optimized, minimizes losses, durable and generates the right returns for the client. The reports generated and expertise of a Solar PV Design Engineer are extremely important while carrying out preliminary planning of power plants, financial assistance and so on.
Design experts are in great demand in the market today as the solar PV market is developing at a rapid pace and the preliminary expertise of a Solar PV Design Engineer is required to create the right plants.
All design experts are well versed with multiple solar design software like SketchUp, Helioscope, PVSyst as each software has its own use case, advantages and applications.
PVSyst is a downloadable software and tool that is used to estimate and optimize the energy output of a solar PV plant.
PVSyst is considered to be the industrial standard as a solar design tool. As a software, PVSyst allows the user to simulate the energy output, losses, analyse shadings, carry out financial estimations, probability reports, and use many more features. Users of PVSyst can simulate the potential energy performance of a power plant, after having specified information such as location, meteo data, components to be used, arrangement, budgets and so on.
The main results to be derived from PVSyst reports are the total energy production, performance ratio, specific energy and gains/losses involved in the simulation. The final report produced from a PVSyst simulation plays a key role in the proposal to be submitted to potential clients.
PVSyst as a software is extremely feature-loaded and broad. For the same reason, Reojob has created two separate curriculums – Introduction to PVSyst and Advanced Applications and Understanding of PVSyst.
How should you prepare for this class?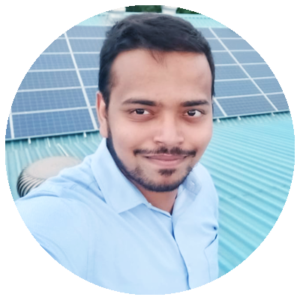 Mr. Shalve Mohile, your instructor for this course, is a freelance solar PV design engineer with an experience of over 5 years in designing and building solar projects, with various system configurations including on-grid, off-grid and micro-grid systems.
With expertise over PVSyst, Helioscope, Aurora and AutoCAD, Mr. Shalve has previously worked as a design engineer with companies like Tata Power and the Ravin Group. As a freelance design engineer and consultant, he works with clients across India, Australia, US and Germany and is also an experienced trainer in the field.
Course Syllabus
1
Simulating system configuration with multiple sub-arrays and inverters.
Simulation using Seasonal Tilt arrangement.
Simulation using Single Axis Tracking systems.
Creating a 3D scene for all of the above using a case study.
Evaluating the differences between the generations for the three systems.
2
Use of Optimization tools to optimize/fine-tune the power plant.
Understanding and generation of P50/P90 reports.
Understanding and simulation with Grid constraints- Active Power Limitation/Power Factor Limitation
Simulation using Bi-facial modules.
Interval data/8760 Report generation and analysis.
3
3D Modelling with greater details and defining strings.
Modeling for self-consumption and storage.
Financial analysis - CAPEX and OPEX proposals.
Any special cases to be discussed upon the request of the candidates
Candidates looking to book multiple seats can get in touch with the Support Team for the best deals and prices available.
Be the first to add a review.
Please,
login
to leave a review