Solar PV Plant Designing with PVSyst
PVSyst is a downloadable software and tool that is used to estimate and optimize the energy output of a solar PV plant.
PVSyst is considered to be the industrial standard as a solar design tool. As a software, PVSyst allows the user to simulate the energy output, losses, analyse shadings, carry out financial estimations, probability reports, and use many more features. Users of PVSyst can simulate the potential energy performance of a power plant, after having specified information such as location, meteo data, components to be used, arrangement, budgets and so on.
The main results to be derived from PVSyst reports are the total energy production, performance ratio, specific energy and gains/losses involved in the simulation. The final report produced from a PVSyst simulation plays a key role in the proposal to be submitted to potential clients.
PVSyst as a software is extremely feature-loaded and broad. For the same reason, Reojob has created two separate curriculums – Introduction to PVSyst and Advanced Applications and Understanding of PVSyst.
Fundamentals of Site Assessment and PVSyst
Complete walkthrough of the PVSyst software
Detailed knowledge of losses and 3D shading
Analysing a PVSyst report and more
Independently perform PVSyst simulations of upto 1-2 MW.
Certificate of Completion after successfully clearing the course.
8 hours+ of online video content
Downloadable PDF files and exercise excel sheets
Access to the instructor over WhatsApp and Mail for all your doubts and queries
Course contents accessible for 45 days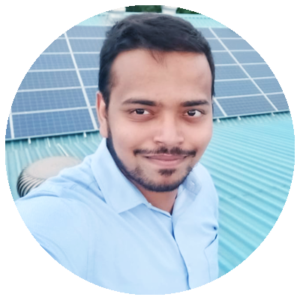 Mr. Shalve Mohile, your instructor for this course, is a freelance solar PV design engineer with an experience of over 6 years in designing and building solar projects, with various system configurations including on-grid, off-grid and micro-grid systems.
With expertise over PVSyst, Helioscope, Aurora and AutoCAD, Mr. Shalve has previously worked as a design engineer with companies like Tata Power and the Ravin Group. As a freelance design engineer and consultant, he works with clients across India, Australia, US and Germany and is also an experienced trainer in the field.
Course Syllabus
1
Basics of Site Assessment (Site feasibility and technical due diligence)
Purpose and factors to consider.
Desktop and On-Site Assessment.
Understand the impact of solar irradiation, tilt angles and other variables on PV production.
Overview, and comparison of various simulation software available.
Advantages and disadvantages of using simulation software.
Introduction to PVSyst.
Basic algebra, geometry, and trigonometry calculations (e.g., area, slope, inter-row shading, wind loads)
Key terminologies to be understood in PVSyst.
2
Creating a new project.
Choosing/creating a weather file for the location.
Importing components.
Setting design conditions.
Orientation parameters.
Design parameters.
Choosing modules/inverters.
Using MPPT/string features.
Horizon, explanation and importing from meteonorm.
3D shading scene.
3
Detailed loss parameters: Analytical explanation about each loss parameter.
Prepare a budgetary quotation.
Simulation, explanation and discussion of final result, loss graph and report.
Understanding final result
Energy Generation Analysis
Performance Estimation
Candidates looking to book multiple seats can get in touch with the Support Team for the best deals and prices available.
Be the first to add a review.
Please,
login
to leave a review