LIVE Online Class – Introduction to PVSyst
What is a Virtual Classroom?
A LIVE online classroom is a LIVE video stream between students and expert professors of the industry, from all across the world. The software, that is created to enable E-learning, is an easy-to-use online platform that allows you to learn various subjects from the comfort of your homes, colleges or offices.
Our instructors, who are industry experts, break down the topic using PDFs, presentations, online 3D Models and other tools, allowing the students to grasp the subjects clearly and effectively.
Features of this classroom
Live sessions with expert instructors.
In-class chat facility to interact and ask questions.
Ask queries to the instructor directly via Private Chats during the live session.
Answer polls and quizzes.
White-board facility to allow the instructors to explain using diagrams and graphs.
In-class technical assistance.
Why become a Solar Designer?
Design experts are in great demand in the market today as the solar PV market is developing at a rapid pace. As the government sets newer and bigger goals by the day, PV designing is playing an important role in achieving these goals in the most efficient manner possible.
This course intends to offer you a great learning experience, with our industry experts teaching you everything you need to know about the software to design PVs.
The Software used in this virtual classroom PVsyst is designed to be used by architects, engineers, and researchers to design a powerful solar photovoltaic system.
PVsyst is able to import meteo (weather) data, as well as personal data from many different sources making it one of the most reliable solar design software.
Day 1
23rd August 2019
05:00PM-08:00PM
Day 2
24th August 2019
12:00PM-3:00PM
Day 3
25th August 2019
12:00PM-3:00PM
What's included in the course fee?
Live online classroom with an instructor who is an industry expert.
8-9 hours training of classroom learning.
Learn from any city in the world from the convenience of your home, college or office.
Class video recordings for 7 days.
Online examination and Certificate of Completion.
Raise doubts and queries during the session.
Extended instructor support.
Personal customer support assistance.
Learn from any device.
Build a National and International network
How should you prepare for this class?
Install the latest version of PVSyst by clicking here
Use headsets, or earphones to ensure a smooth experience.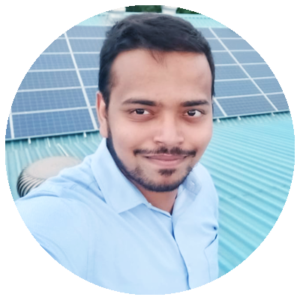 Mr. Shalve Mohile, your instructor for this course, is a freelance solar PV design engineer with an experience of over 5 years in designing and building solar projects, with various system configurations including on-grid, off-grid and micro-grid systems.
With expertise over PVSyst, Helioscope, Aurora and AutoCAD, Mr. Shalve has previously worked as a design engineer with companies like Tata Power and the Ravin Group. As a freelance design engineer and consultant, he works with clients across India, Australia, US and Germany and is also an experienced trainer in the field.
Course Syllabus
1
Basics of Site Assessment (Site feasibility and technical due diligence)
Purpose and factors to consider.
Desktop and On-Site Assessment.
Understand the impact of solar irradiation, tilt angles and other variables on PV production.
Overview, and comparison of various simulation software available.
Advantages and disadvantages of using simulation software.
Introduction to PVSyst.
Basic algebra, geometry, and trigonometry calculations (e.g., area, slope, inter-row shading, wind loads)
Key terminologies to be understood in PVSyst.
2
Creating a new project.
Choosing/creating a weather file for the location.
Importing components.
Setting design conditions.
Orientation parameters.
Design parameters.
Choosing modules/inverters.
Using MPPT/string features.
Horizon, explanation and importing from meteonorm.
3D shading scene.
3
Detailed loss parameters: Analytical explanation about each loss parameter.
Prepare a budgetary quotation.
Simulation, explanation and discussion of final result, loss graph and report.
Understanding final result
Energy Generation Analysis
Performance Estimation
Candidates looking to book multiple seats can get in touch with the Support Team for the best deals and prices available.
Be the first to add a review.
Please,
login
to leave a review